Description
Sticky Controller is a tool for Maya, specially designed for animators that need create extra controls over a rig that is in an animation shot in a simple way.
Versions
Sticky Controller have 3 versions:
Free: for non commercial use and without "fast mode".
Personal: for freelance/personal (limited to one animator) use and with "fast mode".
Studio: for company/studios (unlimited animators) and with "fast mode".
License
Free: CC 4.0 BY-NC-ND (Attribution, Non comercial, No derivate works)
Personal/Studio: Copyright
Download
From Gumroad (All Versions)
From Highend3D (only Free version)
Social
About "Fast Mode"
"Fast mode" is a compiled version of Sticky Controller that increase performance up to 200% (Depends on the version of Maya)
Is only available in commercial versions.
For the moment is only compatible with Maya Windows x64.
Compatibility
Maya 2013+ all plarforms
Installation
Unzip "tx_stickyController" folder where you want.
Drag and Drop "install.mel" to Maya viewport.
Interface Review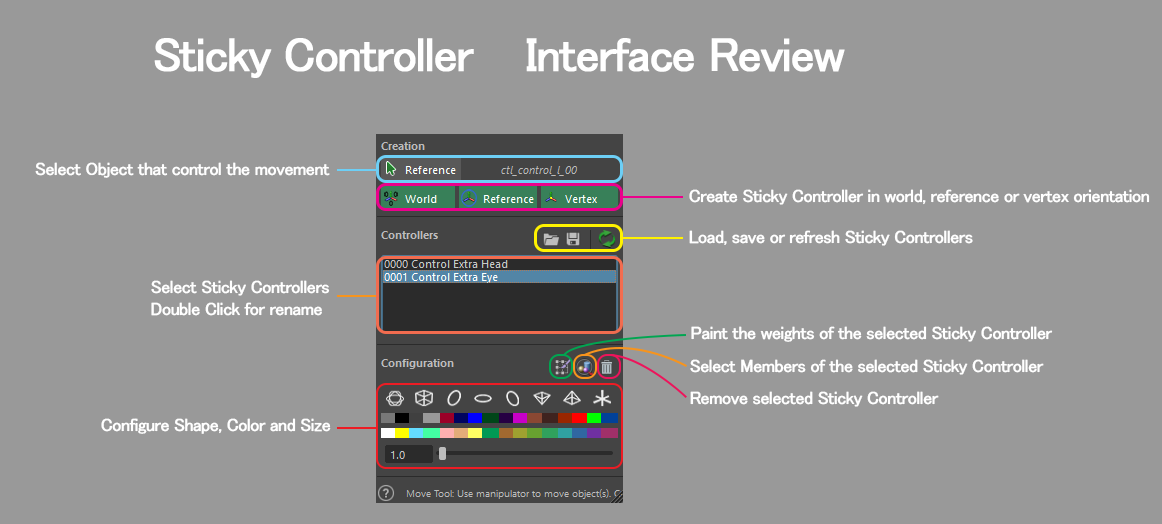 Example of use
Select reference object (control or joint that control the area).
Select the geometry area (recommended use Maya Soft Selection).
Make Sticky Controller.
Configure It (shape, color, size and weight).
Optional: you can save and load your Sticky Controllers.